Ad blocker interference detected!
Wikia is a free-to-use site that makes money from advertising. We have a modified experience for viewers using ad blockers

Wikia is not accessible if you've made further modifications. Remove the custom ad blocker rule(s) and the page will load as expected.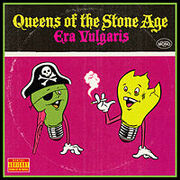 3's & 7's was recorded by Queens of the Stone Age. The song appears on the album Era Vulgaris released in 2007. Fittingly, it is the 3rd song of the 7th tier. It is one of the hardest songs on the game.
Walkthrough
Edit
It may seem completely silly, but during the verse patterns, think to yourself "chika-chika-BAM-BAM-chika-BAM-BAM-BAM-BAM-chika-BAM-BAM-BAM-BAM" to help get down the strange strumming patterns. However, after four repetitions of this pattern, be prepared for one of the repetitions to start off with a stream of notes very similar to One's Darkness riffs, so strum at that speed and continue like nothing happened.
Appears In
Edit
Song Stats
Edit
| | | | | |
| --- | --- | --- | --- | --- |
| Difficulty | Total Notes | Base Score | 4-Star | 5-Star |
| Easy | 435 | 26,808 | 53,616 | 75,063 |
| Medium | 550 | 43,221 | 86,442 | 121,019 |
| Hard | 939 | 67,037 | 134,074 | 187,704 |
| Expert | 961 | 82,238 | 164,476 | 230,267 |
Star Power Paths
Edit
See 3's & 7's/Star Power Paths