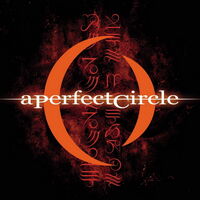 A Perfect Circle is an American rock supergroup formed in 1999 by guitarist Billy Howerdel and Tool vocalist Maynard James Keenan. The original incarnation of the band also included Paz Lenchantin on bass, Troy Van Leeuwen on guitar, and Tim Alexander on drums. The latest lineup features Puscifer and Ashes Divide bassist Matt McJunkins, former guitarist for The Smashing Pumpkins, James Iha; and session drummer Josh Freese, who is best known for his work with Nine Inch Nails, Devo, and The Vandals. Despite having a varied cast since inception, the stylistic content of the songs has remained consistent with Howerdel as composer, and Keenan penning the lyrics.
In the Guitar Hero Series, it provides Judith to Guitar Hero 5 and The Outsider to Guitar Hero: Warriors of Rock.
Band members
Edit
Ad blocker interference detected!
Wikia is a free-to-use site that makes money from advertising. We have a modified experience for viewers using ad blockers

Wikia is not accessible if you've made further modifications. Remove the custom ad blocker rule(s) and the page will load as expected.