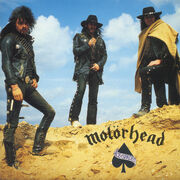 Ace of Spades is a song by English heavy metal band Motörhead. Considered a standard of speed metal, it is Motörhead's most well-known song, becoming a permanent live concert staple of the band since its release in 1980.
It is also, along with Metallica's "One", Van Halen's Hot for Teacher, Billy Squier's Lonely is the Night, and You Really Got Me, one of the only five songs to ever appear in more than one Guitar Hero title, not counting the Nintendo DS installments and Guitar Hero: Smash Hits.
Walkthrough
Edit
The chorus riff is relatively easy, with somewhat fast green notes followed by an orange, then red to blue, then red to yellow, then repeat. Simply strum the greens and orange, then Hammer-on the blue and yellows, strumming on the reds. The verses consist primarily of very easy chords.
Appears In
Edit
Song Stats
Edit
| | | | | |
| --- | --- | --- | --- | --- |
| Difficulty | Total Notes | Base Score | 4-Star | 5-Star |
| Easy | 322 | 21,328 | 42,656 | 63,984 |
| Medium | 412 | 29,640 | 59,280 | 88,920 |
| Hard | 584 | 39,247 | 78,494 | 117,741 |
| Expert | 595 | 43,336 | 86,672 | 130,008 |
100% on Expert
Like Sharp Dressed Man and Paranoid, Ace of Spades is one of the few songs to appear in more than one game but never use the original version. Guitar Hero and Guitar Hero II had a cover while Guitar Hero: Metallica had Ace of Spades 08.
This Guitar Hero I Songs article is a stub. You can help WikiHero by expanding it.
This Guitar Hero II Songs article is a stub. You can help WikiHero by expanding it.
Ad blocker interference detected!
Wikia is a free-to-use site that makes money from advertising. We have a modified experience for viewers using ad blockers

Wikia is not accessible if you've made further modifications. Remove the custom ad blocker rule(s) and the page will load as expected.