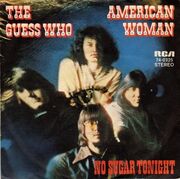 American Woman is a song in
Guitar Hero World Tour
.
Appears In
Edit
Tiers (career)

Guitar - 9. Strutter's Farm (Kentucky)
Bass - 10. House of Blues (Los Angeles)
Drums -
Vocals - 14. AT&T Park (San Francisco)
Band - 8. Rock Brigade (The Pacific)
Walkthrough
Edit
This song is pretty simple for a moderate difficulty tier. The only real hard parts are the verses ("American woman, I said get away! etc."), which have repeating double note combinations. Most of these double notes are multiple Yellow-Orange combinations. The smart thing to do is to use your star power at these parts of the songs.
The bassline is simple, and quite boring. 
The drums, however, are a challenge. A combination of a fast pedal, shoking riffs and snares thrown at you at random, this song is a nightmare to fc. Passing it is fun.
Although the song is titled "American Woman," the song isn't really about a woman at all. Rather, it's a song dealing with political views, such as the Vietnam War.
Ad blocker interference detected!
Wikia is a free-to-use site that makes money from advertising. We have a modified experience for viewers using ad blockers

Wikia is not accessible if you've made further modifications. Remove the custom ad blocker rule(s) and the page will load as expected.