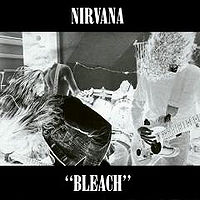 Bleach is Nirvana's first album that was released on June 15, 1989. It features Grunge and lasts for a total of 42:37.
Personnel
Edit
Kurt Cobain/ vocals, guitar
Krist Novoselic/ bass guitar
Chad Channing/ drums
Dale Crover/ drums on "Floyd the Barber", "Paper Cuts" and "Downer".
Jason Everman/ guitar (credited, although he didn't perform)
Jack Endino/ producer
Charles Peterson/ photography
Tracy Marander/ photography
Lisa Orth/design
Jane Higgins/ execution
Contributions to Guitar Hero
Edit
Ad blocker interference detected!
Wikia is a free-to-use site that makes money from advertising. We have a modified experience for viewers using ad blockers

Wikia is not accessible if you've made further modifications. Remove the custom ad blocker rule(s) and the page will load as expected.