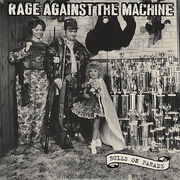 Bulls on Parade is a rap-rock song written and recorded by Rage Against the Machine for their second album Evil Empire (1996).
Walkthrough
Edit
Bulls on Parade is a rap rock song with repetitive guitar parts and two variations of a wah-wah riff. After defeating Tom Morello in a guitar battle, Tom joins in to play rhythm guitar. The song also features a whole turntable-esque solo using a toggle switch and Tom simply rubbing his hand across the guitar strings (This can be seen in game in single player with Tom doing the "killswitch scratch" even though you are playing the lead guitar). Keep your wits about you in the Kill Switch Scratch - it's very easy to miss something silly here and -1 runs on this song are common.
Really, the only hard part of the song is the "kill switch scratch". The easy parts include the intro, the outro, the wah-wah riffs, the wah-wah bridge in the middle, the verses, and the choruses.
Although during the second wah-wah riff there is a bass solo for co-op players, but it is easily passed even on Expert.
Appears In
Edit
Guitar Hero III: Legends of Rock (Tier 2 - Encore)
Song Stats
Edit
| | | | | |
| --- | --- | --- | --- | --- |
| Difficulty | Total Notes | Base Score | 4-Star | 5-Star |
| Easy | 320 | 22,952 | 45,904 | 64,366 |
| Medium | 529 | 35,058 | 70,116 | 98,163 |
| Hard | 743 | 51,120 | 102,240 | 143,136 |
| Expert | 743 | 55,920 | 111,840 | 156,576 |
This is the only song in the game that Hard and Expert have the same number of notes.
This Guitar Hero III Songs article is a stub. You can help WikiHero by expanding it.
Ad blocker interference detected!
Wikia is a free-to-use site that makes money from advertising. We have a modified experience for viewers using ad blockers

Wikia is not accessible if you've made further modifications. Remove the custom ad blocker rule(s) and the page will load as expected.