"Dead!" is a song written and recorded by My Chemical Romance, appearing on their third studio album, The Black Parade (2006).
Walkthrough
Edit
The song begins with a riff of chords, then a brief solo that may require use of HOs/POs. Afterwards the player plays mostly the rhythm with the lead guitar notes played intermittently. Finally the player must complete the chorus for the first time. The chorus itself is nothing but chords, including two of the hardest chords featured in the game, Green-Blue-Orange and Green-Orange; these chords require the player to stretch their fingers in order to hit them. The player then plays a slightly altered form of the rhythm that makes very liberal use of three button chords, then must complete the chorus again. After playing a brief single note section, an even briefer alternating chord riff, then an alternate strumming sequence, the player must complete the songs main solo. The solo is considered by some to be relatively easy for a sixth tier song, but it is a challenge nonetheless. Numerous HO/PO riffs are featured with chords thrown in for added difficulty. The player then reverts to playing a changed form of the chord-laced rhythm, and then ends the song.
Appears In
Edit
Guitar Hero II (Xbox 360) (6th Tier)
Song Stats
Edit
| | | | | |
| --- | --- | --- | --- | --- |
| Difficulty | Total Notes | Base Score | 4-Star | 5-Star |
| Easy | 349 | | | 62,734 |
| Medium | 498 | | | 94,995 |
| Hard | 649 | | | 145,932 |
| Expert | 690 | | | 167,669 |
100% On Expert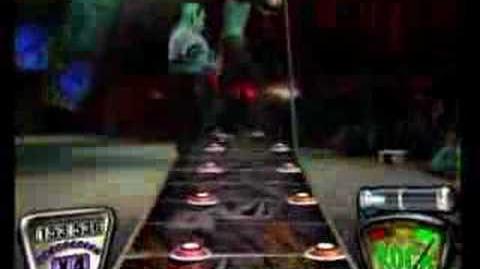 Ad blocker interference detected!
Wikia is a free-to-use site that makes money from advertising. We have a modified experience for viewers using ad blockers

Wikia is not accessible if you've made further modifications. Remove the custom ad blocker rule(s) and the page will load as expected.