"Alone with her creations, she revals in giving them life. Her stagecraft dazzles the eye, but is there substance behind the spark? Echo feels worthy to join the quest. Let her prove herself and become transformed." - Echo's introduction.
"Unable to contain the power of rock in her earthly vessel, Echo must be made suitable. You are now free to achieve supremacy as your true self." - Echo's transformation into a warrior of rock.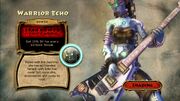 Echo Tesla (March, 11th, 1978, New Delhi, India) is one of the two new characters for Guitar Hero: Warriors of Rock. Her power in Guitar Hero: Warriors of Rock, when transformed into Warrior Echo, is Star Power Generator+ which allows the player to collect 10 percent amount of Star Power for every 10 notes. Echo's warrior form is a Frankenstein cross robot creature that somewhat resembles Frankenstein's monster. Echo Tesla was inspired by Eric Carr (Ex-Kiss Drummer), Amy Lee (Evanescence singer), Carly Smithson (We Are The Fallen singer), Tarja Turunen (Ex-Nightwish singer) and by Marilyn Manson. Her surname "Tesla" was clearly inspired by the band with same name; Tesla.
Description
Edit
Human description: This electric performer hit the scene with reverberating success, her song 'Coil' catching the attention of fans, performers and press alike.
Warrior and spirit description: With her brain unchained, armed with technology, standing on her own two new beat feet, this electric lady is complete and replete, fait accompli.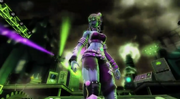 Normal Form
Edit
Echo has the longest hair among the female characters in the game: It has a kerchief on her head with a skull motif. She somewhat sports a "robot-mechanic" style. She also wears earrings. Her entire face is covered in makeup that gives her an 'emotionless' look. Her top composes of a spiked choker, a strapped-black top with a red tank top under it, and torn fishnets and unequally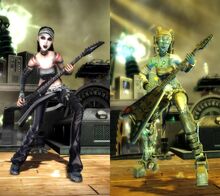 gloves with alternative buckles and stripes. She also wears black pants under her white 'skirt' that is decorated with hanging cogs, metal skulls, bandolier, belts, and chains.
Warrior Form
Edit
She transformed into a frankenstein cyborg: giving her metallic blue skin, electrodes all over her body. Her pants are ripped halfway, and she now has a mask of sorts, with six electronic eyes. She has two chains that act as 'ponytails'. She also has a scar on her face. And has robotic-metal feet, and part of her arms are of metal too.
Star Power Generator
Edit
Basic Effects
Edit
The star power gauge fills by 5% each time 10 consecutive notes are hit.
+ Effects
Edit
Hitting 10 consecutive notes now fills the star power gauge by 10% rather than 5%
Ad blocker interference detected!
Wikia is a free-to-use site that makes money from advertising. We have a modified experience for viewers using ad blockers

Wikia is not accessible if you've made further modifications. Remove the custom ad blocker rule(s) and the page will load as expected.