Echo Tesla
Talk

0
1,371pages on
this wiki
Echo Tesla
First Appearance
Guitar Hero: Warriors of Rock
Genre
Industrial, Alternative, Modern Rock, Indie Rock
Likes
Elephants, cows, cricket, Krishna, Shiva, Agni, incense
Dislikes
Blasphemy, Beef, Pakistanis
Highway
Black
"Alone with her creations, she revals in giving them life. Her stagecraft dazzles the eye, but is there substance behind the spark? Echo feels worthy to join the quest. Let her prove herself and become transformed." - Echo's introduction.
"Unable to contain the power of rock in her earthly vessel, Echo must be made suitable. You are now free to achieve supremecy as your true self." - Echo's transformation into a warrior of rock.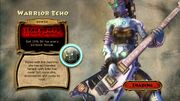 Echo Tesla is one of the two new characters for Guitar Hero: Warriors of Rock. Her power in Guitar Hero: Warriors of Rock, when transformed into Warrior Echo, is Star Power Generator+ which allows the player to collect 10 percent amount of Star Power for every 10 notes. Echo's warrior form is a Frankenstein cross robot creature that somewhat resembles Frankenstein's monster or Bionic Woman from the TV show, Bionic Woman. Owen Moore made her up. She is Indian. Echo Tesla was inspired by Eric Carr (Ex-Led Zeppelin, Ex-Kiss Drummer), Amy Lee (Evanescence singer), Carly Smithson (We Are The Fallen singer), Tarja Turunen (Ex-Nightwish singer) and by Marilyn Manson. Her surname "Tesla" was clearly inspired by the band with same name; Tesla.
Description
Edit
Human description: This electric performer hit the scene with reverberating success, her song 'Coil' catching the attention of fans, performers and press alike.
Warrior and spirit description: With her brain unchained, armed with technology, standing on her own two new beat feet, this electric lady is complete and replete, fait accompli.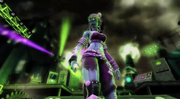 Before transforming into a warrior, she has white make-up on her entire face, and some black make-up aswell. She wears a leather top and long gloves, different in each hand. She wears black pants under her skirt and black shoes. Her hair is jet black and quite long making her look Russian. She wears a headband. When she gets transformed she has metallic blue skin and has electrodes all over her body. Her pants are ripped halfway, and she now has a mask of sorts, with six electronic eyes. She has two chains for ponytails. She also has a scar on her face. And has metal feet, and part of her arms are of metal too.
Star Power Generator
Edit
Basic Effects
Edit
The star power gauge fills by 5% each time 10 consecutive notes are hit.
+ Effects
Edit
Hitting 10 consecutive notes now fills the star power gauge by 10% rather than 5%