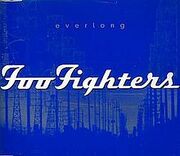 "Everlong" is the second single released from Foo Fighters' second album The Colour and the Shape, released in 1997.
Appears In
Edit
Tiers (career):
Guitar - 8. Rock Brigade (The Pacific)
Bass - 12. Strutter's Farm (Kentucky) (Encore)
Drums - 16. Rock Brigade (The Pacific) (Encore)
Vocals - 12. Amoeba Records (Los Angeles)
Band - 14. AT&T Park (San Francisco)
Walkthrough
Edit
Like most Foo Fighters songs, the hardest part about Everlong is the constant switching between first (with your index finger on the Green) and second (with your index finger on the Red) positions. This song requires a lot of alternate strumming if you don't want to wear out your hand. If you have trouble with quickly-switching chords, this song will not be your cup of tea (especially during the chorus and bridge). The unexpected "triplets" (two quick notes followed by a chord) can also be problematic for sightreaders.
Overall, if you have low endurance, this song can be hard.
(insert video here)
Ad blocker interference detected!
Wikia is a free-to-use site that makes money from advertising. We have a modified experience for viewers using ad blockers

Wikia is not accessible if you've made further modifications. Remove the custom ad blocker rule(s) and the page will load as expected.