Ad blocker interference detected!
Wikia is a free-to-use site that makes money from advertising. We have a modified experience for viewers using ad blockers

Wikia is not accessible if you've made further modifications. Remove the custom ad blocker rule(s) and the page will load as expected.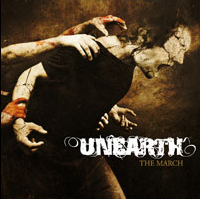 "Grave of Opportunity" is a song by metal band, Unearth, from their album The March. It can be downloaded from the music store in Guitar Hero World Tour and Guitar Hero: Warriors of Rock for free.
Intro
Fast Riff
Verse 1
Bridge 1
Verse 2
Chorus 1
Break Down
Build Up to Solo
Solo
Bridge 2
Verse 3
Chorus 2
Outro
Rrrruff
Time's venom boils
Every breath ticking towards torment
This carrier
Exposes our instability
I
Will battle on
I
Must choose a throne to succeed
This domain in which I leave
I'll battle on to carry on
Till the cycle
Ends its game
I see the blood
Spilling out from the core
Dig my grave of opportunity
Time stalks us all
A scar filled test of who we are
Dig my grave of opportunity
FREEFORM
Downward I have gone
Still I bleed I won't die off
Downward I have gone
The end is yet to come
Downward I have gone
Still I bleed I won't die off
Downward I have gone
The end is yet to come
I
Will battle on
I
Will battle on
Time's venom boils
Every breath ticking towars torment
This carrier
Exposes our instability
I see the blood
Spilling out from the core
Dig my grave of opportunity
Time stalks us all
A scar filled test of who we are
Dig my grave of opportunity
The end is yet to come