Izzy Sparks (February, 17th, 1969, New York City, New York, United States Of America) is a playable character in the Guitar Hero series. He first appeared with the Grim Ripper as one of two unlockable characters in Guitar Hero, and has appeared as a regular starting character in each game in the series since.
Inspiration
Edit
He is American. He is known for his large hair, flamboyant style, wild attitude and outrageous costumes. He is inspired by Blackie Lawless (WASP singer/guitarist/bassist),Vince Neil and Nikki Sixx (respectively, Mötley Crüe's vocalist and bassist), C.C. DeVille (Poison's guitarist), Vinnie Vincent (KISS and Vinnie Vincent Invasion's guitarist), Howard Leese (Heart), Izzy Stradlin (Guns n' Roses' rhythm gutarist), Iggy Pop (The Stooges), SPIKE (Quirboys), Tyla (Dogs d'amour), Mike Monroe (Hanoi Rocks), Lexxi Foxxx (Steel Panther) and other 80s hard rock icons. He was named after Izzy Maxwell of the Sound Mixing Department at Harmonix, the developer of Guitar Hero, Guitar Hero II, and Guitar Hero Encore: Rocks the 80s.
Biography
Edit
Guitar Hero He is dressed in leather and spandex,with platform boots, makeup, and a skull shaped codpiece.

Guitar Hero II Almost the same outfit, but with linebacker makeup (like that worn by Nikki Sixx in the 80s), and is now yellow and black.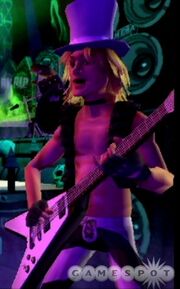 The unlockable top hat outfit is when he is wearing zebra print pants, white boots, a black feather open vest and a white top hat.
Guitar Hero Encore: Rocks the 80s Izzy wears a jaguar-print headband, a pink sleeveless shirt with a neckerchief, tight black leather pants and boots.
Guitar Hero III: Legends of Rock
The Rockstar
Edit
In the PS2/Wii Version, he has a darker skin tone.
Leopard: Leopard print spandex jumpsuit, big hair, makeup, yellow boots, and various scarves tied around his legs. (See above)
Lizard: Green leopard print Spandex.
Viper: Red spandex and a white scarf. Ironically, he looks like Shawn Michaels.
The Peacock
Edit
Fantasy: Blue spandex jumpsuit, large feathers on one shoulder, and more chunky, pieced hair. Very over-the-top.
Neon Knight: Purple hair, green feathers, sleeves and pants.
Grandiose: Black and red outfit. Blonde hair.
Guitar Hero World Tour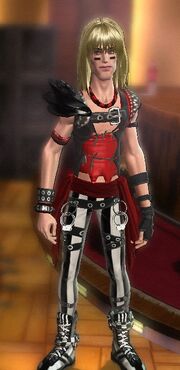 Torso: Leftovers
Pants: Cuffs and Stripes
Shoes: You've Been 86ed
Accessories: Demo Wrap (left arm), Leathery Spike (right arm)
Guitar Hero Metallica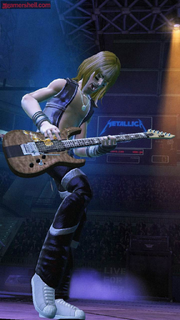 Izzy by default looks similar to his appearance in World Tour, except that he is wearing a black vest with black pants and white sneakers. Like many of the other Guitar Heroes, this is to make him look more Metal. Torso: Gilded Glam Pants: Hurricane Chaps Shoes: Deez Sneakers Accessories: Wrist Snuggler (left arm) and Xcessive Rings (right arm)
Guitar Hero Smash Hits Izzy looks almost if not exactly like he did in World Tour.
Guitar Hero 5; Guitar Hero The Animated Series: Izzy has new outfits in this game.
Glam Tease: This outfit shows him with his usual, more outrageous style: he has white blonde hair that reaches his shoulders with a section of it sticking up diagonally. He wears a zebra print jumpsuit with gold fur trim.
Sideshow
Stiki
The Immpresario: This outfit shows him with blonde short hair that shades over one eye. He wears a black trench coat with a large amount of black fur trim and black pants.
Band Hero Izzy has two outfits at the beginning of the game, and one can be unlocked in career. His first outfit called "10 Minutes Till Pluto" looks a lot different than his usual appearance; he has black hair in a style the game calls "The Catolano". He wears a blue shirt under a black vest with scribbled writing covering it, accessorized with a yellow bandana. He wears purple pants with purple and green socks and white sneakers that have scribbles all over them. He wears a wristband on his right arm and his arms have many tattoos.
Izzy's signature guitar is a Custom Rising Sun Gibson Explorer, which was made for him in GH1.
Izzy Sparks is one of two characters that you can see, without buying them. (Along with Grim Ripper).
Arsenic, the name of one of his bands mentioned in his Guitar Hero bio, may be a reference to the bands Poison or Anthrax.
Interestingly, Izzy Sparks' default outfit in Guitar Hero 2 appears as his outfit in Guitar Hero: Warriors of Rock.

Izzy Sparks is unlockable as a bonus character in Quickplay+ in Warriors of Rock by reaching rank 28.

His appearance in GH5 might have been based on that of the late singer David Bowie, who was also a Glam Rocker.

Izzy's hair in GH5 is called Hooligan and looks a lot like David Bowie's 1970s alter ego, Ziggy Stardust's hairstyle.

While not appearing in the game physically, Izzy's name is shown to be one of the nine opponents in GHTV's Premium Shows in Guitar Hero Live.
Ad blocker interference detected!
Wikia is a free-to-use site that makes money from advertising. We have a modified experience for viewers using ad blockers

Wikia is not accessible if you've made further modifications. Remove the custom ad blocker rule(s) and the page will load as expected.