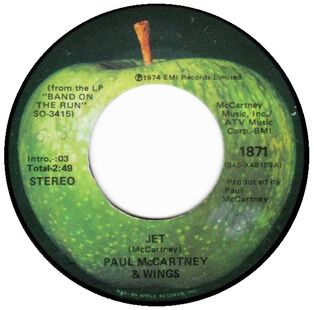 "Jet" is a song by Paul McCartney & Wings from their album Band on the Run. The song peaked at number 7 in both the British and American charts on 30 March 1974. It appears as DLC and Part of The Wings Track Pack In Guitar Hero World Tour.

Along with "Helen Wheels" and "Junior's Farm", it is another McCartney song where his primary inspiration for composing the song arose in daily life.[6] Whereas most of the Band on the Run album was recorded in Lagos, Nigeria, "Jet" was recorded entirely at EMI Studios in London after the group's return (according to engineer Geoff Emerick in his book Here There and Everywhere). Instrumentation used in the song includes electric guitars, bass, Moog, drums, piano, horns and strings. A closer listening reveals that during the verse the bass simply holds a single root note.
When first released, the single's B-side was "Mamunia", another track from Band on the Run. However, it was soon replaced with "Let Me Roll It". "Jet" can also be found on both Wings Greatest (1978) and All the Best! (1987).
Reviewers have reported that the subject of the song is McCartney's Labrador Retriever dog named "Jet". However, in a 2010 interview on the UK television channel ITV1 for the program Wings: Band on the Run (to promote the November 2010 CD/DVD re-release of the album) McCartney explained that Jet was the name of a pony he had owned, although many of the lyrics bore little relation to the subject; indeed, the true meaning of the lyrics has defied all attempts at decryption.
Some radio stations have played edit versions of the song omitting the introduction, coda, and the repeat of the bridge and the final verse.
Prominent music critic Dave Marsh named the song number 793 in his list of the 1001 greatest singles ever made. He referred to it as a "grand pop confection" that represented the only time McCartney approached the "drive and density" of his tenure with the Beatles. Writer Graham Reid has described it as a power pop "gem".
The Australian rock band Jet drew their name from the song title
Ad blocker interference detected!
Wikia is a free-to-use site that makes money from advertising. We have a modified experience for viewers using ad blockers

Wikia is not accessible if you've made further modifications. Remove the custom ad blocker rule(s) and the page will load as expected.