[[Category:Songs by
Muse
]]
Knights of Cydonia is a song written and recorded by English rock band Muse for their fourth studio album Black Holes and Revelations, released in 2006.
Appears In
Edit
Guitar Hero III: Legends of Rock (Tier 7)
Walkthrough
Edit
Knights of Cydonia is considered one of the hardest songs on the game. there are several sections which are much harder than the others.
There are two sections (technically) which are considered the most difficult in the song. There are three separate sections which feature fast tremolo strumming, reaching speeds of about 13 NPS (only in hard and expert modes), including one which lasts continuously for about 30 seconds (Breakneck Desperado 1 and 2). The other sections are "Galloping Rampage" and "Hastening Pursuit".
The second "section" consists of "Amending Chorus" and "Galloping Triplets". "Amending Chorus" is, in the original recording of the song, played on the keyboards, and consists of sixteen ten-note phrases, only the first of which is a strummed note. The notes ascend upwards, with a different starting note every two phrases. "Galloping Triplets" is considered a little more difficult because of the wide spacing of notes (orange-red-green, about 6 NPS), which for some is difficult to hit consistently with one hand. However, with the exception of the first note and ten three-note chords at the end of the section, it consists entirely of hammer-ons, so it is possible to tap.
One way to fix the inconsistencies of the fast strumming is to determine the length in time of two of the notes. Once that's determined, downstrum at that speed. Adding an upstrum will double the speed of the strums, and if you can hold that speed for a long time it will become easy to combo.
One way to fix the "Galloping Triplets" section is to play the frets with one hand until you can comfortably move your strumming hand to tap the highest note. This becomes helpful when trying to hit the orange-red-green section because of the difficulty of hitting them with one hand. An alternate strategy is to elbow strum the first note of the section and tap from there, though this maneuver is more difficult. If you have very fast arms, you can reach up all the way to the green fret with your right hand after hammering-on the last note of amending chorus, then elbow strum the first note of the triplets. then, just fret the rest of the notes from the higher hand position. this way, you can always use your left index for the red note.It does have a fast strumming note at the beginning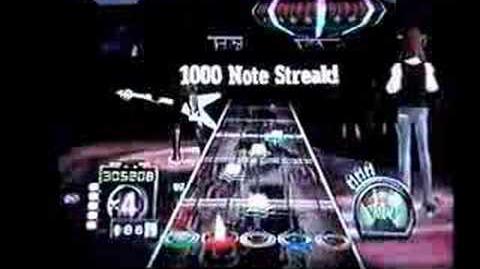 Ad blocker interference detected!
Wikia is a free-to-use site that makes money from advertising. We have a modified experience for viewers using ad blockers

Wikia is not accessible if you've made further modifications. Remove the custom ad blocker rule(s) and the page will load as expected.