{{Character Infobox |image =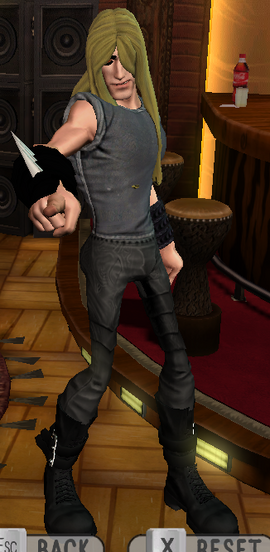 |name =  Marcus Fjorn Frettenshredder=
I Marcus Frettenshredder  "Baby Tigger-Learn to trust,Learn to love" doesn't oppose to Dethkloks deathmetal ,thrash metal,Scandinavian folk metal and power metal.Ido not hate death metal bacause my entire soul being will not fade into the wrong genres of other genres completely.It'  very demanding for a guitarist on the electricls' side .Power gig was used to transition from guitar hero to six string game play then Rocksmith followed in suit. I wish for all have a happy New Years .Thanks to Guitar Hero and other media outlets live on and off the internet reg trademarks.Tina VanDuzer is within me always til the end and in the spirit realm everlasting I'm helping Tina to play songs on her non electric guitar for fun and music in theory put together w/o a hitch.Marcus Fretshredder reminds me of Mark Fabenhausgraftenswarz my neighbor in image likeness/Arnold Swarzenegger(The Terminator) .Marcus Fretshredder can play his guitar on and off stage with a guitar strap on hs electric guitar..--I can be found on Linkedin...Marcus wears a kingsley blond hair wig over his crew cut do like it's Halloween,the oogy-boogy-boogy-boogies. 
Torso:grey rolled up t-shirt
Pants:nice black spandex under grey plated leathers
Shoes:black buckle boots
Accessories : Warhammer on right arm and holiband on his left arm and a wedding band on my and Tinas'  onher left and ring fingers
Ad blocker interference detected!
Wikia is a free-to-use site that makes money from advertising. We have a modified experience for viewers using ad blockers

Wikia is not accessible if you've made further modifications. Remove the custom ad blocker rule(s) and the page will load as expected.