Message in a Bottle --
as made famous by The Police
Tier: 2(PS2) / 3(Xbox 360)

Message in a Bottle is a song written and recorded by The Police, appearing on their second studio album, Reggatta De Blanc (1979).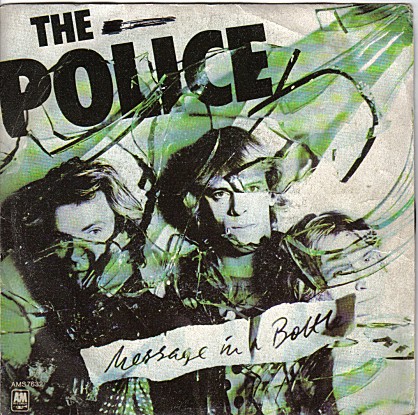 Walkthrough
Edit
The song can be labeled as repetitive, as much of the time the player plays the same continuous riff. It is with this the song begins; the sequence is entirely composed of single notes and sustains. Once the first section of the song is completed, the player plays the chorus section. The bass mainly consists of single chord sections, and near the end of it an alternating chord/single note section which may prove to be challenging to an up and coming player.
After the first chorus, the player completes a brief interlude of three-button chords, a few single notes, and some sustains, then plays the main single note riff for a second time. The chorus is played again, then afterwards a brief solo. After playing the main riff and the chorus in that order for a third time, the player encounters another solo.
At this point the main riff is played yet again, this time longer, then enters into the final solo. The solo is relatively sparse until the tail end, where a frantic solo composed of HOs and POs is thrown at the player. Afterwards the song dies down and finishes.
Appears In
Edit
Song Stats
Edit
| | | | | |
| --- | --- | --- | --- | --- |
| Difficulty | Total Notes | Base Score | 4-Star | 5-Star |
| Easy | 387 | | | 74,695 |
| Medium | 804 | | | 160,960 |
| Hard | 844 | | | 176,175 |
| Expert | 977 | | | 183,867 |
0 percent

Ad blocker interference detected!
Wikia is a free-to-use site that makes money from advertising. We have a modified experience for viewers using ad blockers

Wikia is not accessible if you've made further modifications. Remove the custom ad blocker rule(s) and the page will load as expected.