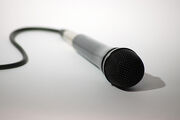 This is the peripheral to play on Vocals. In Guitar Hero 5 a new design came out.
      Publisher: RedOctane
Platform Requirement: PS2, PS3, Wii, Xbox 360
Guitar Hero Wired USB Microphone
High performance, high clarity, wired microphone
Reliable and durable design
Includes 15 foot USB cable
Compatible with consoles including PS2, PS3, Wii and Xbox 360
Ad blocker interference detected!
Wikia is a free-to-use site that makes money from advertising. We have a modified experience for viewers using ad blockers

Wikia is not accessible if you've made further modifications. Remove the custom ad blocker rule(s) and the page will load as expected.