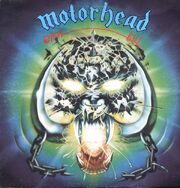 Overkill
is a song by
Motörhead
featured in
Guitar Hero World Tour
. It features several massive parts on each track, including really fast drum beats, driving bass parts, and crippling guitar solos. The awkward chord progression on the guitar part is also brutal, as they are complete combo breakers. It is usually in one of the last tiers for every career, except for vocals, which is in the 1st tier, as
Lemmy
's voice is deep, making the words easy to sing, no matter what difficulty. Being said, when exported to 
Guitar Hero Warriors of Rock
, it has a vocals difficulty of 20%. It was also re-recorded by them for World Tour, as well as being an odd track as there are two sections of the song that resemble the ending, leading the player to believe the track is over. This can destroy unsuspecting drummers, since they resume the song after these "fake outros." The third outro ends the song, but don't expect simplicity or forgiveness when playing "Overkill." 
Appears In
Edit
Tiers (career):

Guitar - 17. Times Square (New York City)
Bass - 17. Times Square (New York City)
Drums - 17. Times Square (New York City)
Vocals - 1. Phi Psi Kappa (USA)
Band - 16. Ozzfest (Germany)
Ad blocker interference detected!
Wikia is a free-to-use site that makes money from advertising. We have a modified experience for viewers using ad blockers

Wikia is not accessible if you've made further modifications. Remove the custom ad blocker rule(s) and the page will load as expected.