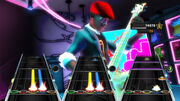 Quincy Styles is a rap rocker who first made his appearance in Band Hero. He was named in the Band Hero Name-A-Rocker contest. His name is not a reference to anything.
"I Heard It Through the Grapevine" - Marvin Gaye
"ABC" - Jackson 5
"Low (Travis Barker Remix)" - Flo-Rida featuring T-Pain (DLC)
Ad blocker interference detected!
Wikia is a free-to-use site that makes money from advertising. We have a modified experience for viewers using ad blockers

Wikia is not accessible if you've made further modifications. Remove the custom ad blocker rule(s) and the page will load as expected.