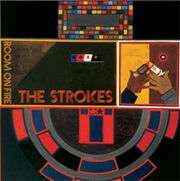 Reptilia was written by Julian Casablancas and recorded by The Strokes. The song appears on the album Room on Fire released in 2003.
Walkthrough
Edit
Easy song on any difficulty. 75% or so is just the same repeating rhythm. Only hard part is a very stretchy fingered part of straight quarter notes. Also due to the fact the chorus should be hammer ons because the fingering is complex.
Appears In
Edit
Guitar Hero III: Legends of Rock (Tier 2, Co-op only)
Guitar Hero On Tour: Modern Hits
Guitar Hero Live
(
GHTV
)
This song appears as a Music Video in GHTV.
Ad blocker interference detected!
Wikia is a free-to-use site that makes money from advertising. We have a modified experience for viewers using ad blockers

Wikia is not accessible if you've made further modifications. Remove the custom ad blocker rule(s) and the page will load as expected.