[[Category:Songs by
Foghat
]]
"Slow Ride" is a song that appears in Guitar Hero III: Legends of Rock. It was written and recorded by Foghat, appearing on their fifth album Fool for the City in 1975. The song hit #20 on the Billboard Hot 100 in 1976, and is considered to be Foghat's signature song. The version covered in Guitar Hero III is the four-minute single version. (as opposed to the 8:14 version from the original LP.)
Walkthrough
Edit
"Slow Ride" is one of the easiest songs in Guitar Hero III: Legends of Rock, as is evidenced by its placement as the first song in the first tier(it's also considered by some to be one of the easiest songs in the entire series). On Expert difficulty, the only difficult parts of its notechart are its usage of three note chords and its solo, which might cause some trouble for both new and veteran Guitar Hero players alike because of its Hammer On and Pull Off mechanics. In the ending moments of the song, there is a complicated bass solo, shown only on co-op modes, possibly the most difficult in the game.
The Easy version of the chart, however, is infamously known for being extremely difficult. Its high amount of NPS rivalling Trogdor and The Devil Went Down to Georgia combined with the song's constant trills and a shallow SP path challenge the likes of Jordan and Fury of the Storm. It is the only Guitar Hero song to date to use 6 frets instead of the standard 3 used for the Easy difficulty.
Appears in
Edit
Song stats
Edit
| | | | | |
| --- | --- | --- | --- | --- |
| Difficulty | Total Notes | Base Score | 4-Star | 5-Star |
| Easy | 287 | 20,428 | 40,856 | 57,199 |
| Medium | 477 | 31,246 | 62,492 | 87,489 |
| Hard | 517 | 38,010 | 76,020 | 106,428 |
| Expert | 551 | 45,598 | 91,196 | 127,675 |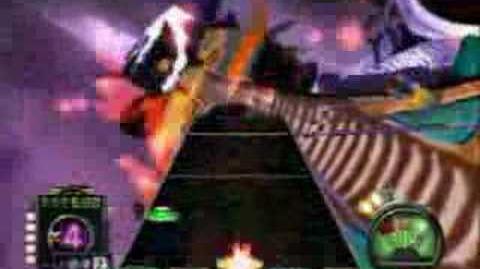 The last note in Hard is 3-note chord and it's first time Hard features a three note chord.
Ad blocker interference detected!
Wikia is a free-to-use site that makes money from advertising. We have a modified experience for viewers using ad blockers

Wikia is not accessible if you've made further modifications. Remove the custom ad blocker rule(s) and the page will load as expected.