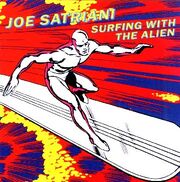 Surfing with the Alien is a song by the instrumental rock guitarist Joe Satriani for his album of the same name, released in 1987. The song refers to the comic book character "Silver Surfer". The song was available as downloadable content for Guitar Hero III. It is a fast and complex song. Including downloadable content, it was deemed the 10th hardest song to FC on the Expert difficulty, with three recorded FCs.[1]
Appears In
Edit
Guitar Hero III: Legends of Rock (DLC)
Please help WikiHero by putting a video here

http://www.youtube.com/watch?v=qYB3w0dw2SQ
This Guitar Hero III Songs article is a stub. You can help WikiHero by expanding it.
Ad blocker interference detected!
Wikia is a free-to-use site that makes money from advertising. We have a modified experience for viewers using ad blockers

Wikia is not accessible if you've made further modifications. Remove the custom ad blocker rule(s) and the page will load as expected.