[[Category:Songs by
Guns N' Roses
]]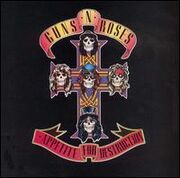 ‎
Sweet Child o' Mine is a song by Guns N' Roses and is considered one of their most famous songs from their debut album Appetite for Destruction. It is the encore in the 4th tier.
Walthrough
Edit
This is an easy song overall, and the only part that's even mildly difficult is the solo. Star Power is recommended to be used on the solos, if you should have trouble.
Ad blocker interference detected!
Wikia is a free-to-use site that makes money from advertising. We have a modified experience for viewers using ad blockers

Wikia is not accessible if you've made further modifications. Remove the custom ad blocker rule(s) and the page will load as expected.