The God of Rock
Talk

0
1,330pages on
this wiki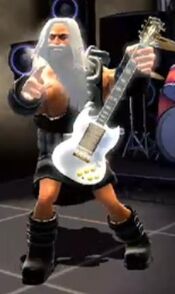 The God of Rock is a playable guitarist introduced in Guitar Hero 3. In that game, he is one of the tutorial instructors, along with Lou.
He is not playable in any of the other games, but he appears in Guitar Hero Aerosmith in the tutorials yet again, he makes a cameo in World Tour (and can be added via the rockstar creator), and appears in various cutscenes in Guitar Hero Smash Hits.
His in-game model in Guitar Hero III, is a variation of Axel Steel, using the same animations.