The Male Singer
Talk

0
1,355pages on
this wiki
Eddie
First Appearance
Guitar Hero
Genre
Rock, Alternative Rock, Hard Rock, Psychedelic Rock, Glam Rock, Funk Rock, Psychobilly, Heavy Metal, Alternative Metal, Glam Metal, Funk Metal, Thrash Metal, Speed Metal, Power Metal, Power Pop, Pop Punk, Punk Rock
Likes
Getting all the attention (possibly from Guitar Hero), Being popular, Being rich, Having everybody's voice
Dislikes
Being tackled, Being in charge of the mix (possibly from Guitar Hero 3), Selling out, Lou
Fretboard
No board
[[Category:Characters from
Guitar Hero
]]
The Male Singer is a recurring, unplayable character in the entire Guitar Hero series up until Guitar Hero World Tour. Though the character has gone through minor redesigns from one game to the next, he is depicted invariably as a tall, white, brown-haired man dressed in a black wifebeater tanktop with a necklace, black jeans with a brown bullet belt, white baggy socks, gray and white flat-top sneakers with yellow markings and black gauntlets in the first game. Some may say he even resembles a fish. He is American. In GH2 and GH80s, he wore a black and white baseball T-shirt, the same pants from the first game, blue and white sneakers and red cloth bands. In the Xbox version, he wore sunglasses. Perhaps the greatest change he has ever undergone relates to his facial look: while, in the first three games, he looked like an average youngster, GH3 designed him with a fringe covering his eyes and an impossibly wide mouth. He wore a black tank top, blue torn jeans with a black belt, gray and white sneakers, a black fingerless glove on his left hand, a black and gray striped arm warmer on his right hand and a tattoo on his left shoulder. Many jokes are made about him being the only male singer in the game, such as an apparent ability to imitate anyone's voice or speak any language (or at least Spanish, French, and German). In fact, one idea that is tossed around is that Neversoft might as well not have even included a female singer, since he could just imitate a female's voice anyway.
The Male Singer appears during all performances except for multiplayer matches, instrumental songs, like Cliffs of Dover and songs with female vocals like Hit Me With Your Best Shot. He was also the only male singer in the series until Guitar Hero III: Legends of Rock, when Bret Michaels was introduced as both a hidden character and a guest character, appearing in Career Mode to sing Talk Dirty to Me and Go That Far. Bret Michaels also mo-capped his performance with the motion-capture suit. The Male Singer, along with the rest of the band, returns to perform all non-Aerosmith songs in Guitar Hero: Aerosmith, with the exception of Walk This Way and King of Rock, both by Run-DMC; DMC himself appears in the game. In Guitar Hero: On Tour, The Male Singer returns just like the other games, but now he replaces The Bassist, so he sings and plays the bass at the same time. In Guitar Hero World Tour, the Male Singer is replaced by random people. He is also replaced by random people in "Guitar Hero Metallica" and "Guitar Hero Van Halen". He is also replaced by the main characters (such as Axel Steel, Judy Nails, etc.) in ""Guitar Hero Smash Hits", "Guitar Hero 5" and "Band Hero".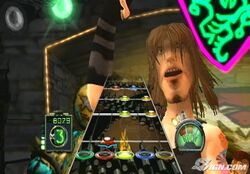 In gameplay, the Male Singer has facial hair, but in cutscenes he does not.
In the second Co-op cutscene, listen closely to the drummer at the beginning when he's talking to the lead singer, and you can hear "Hey Eddie". This is probably his (or The Drummer's, or perhaps The Bassist's name).
In Guitar Hero World Tour he, The Drummer, and The Bassist appear in the intro for a brief moment.
To many, he is simply known as "Chin", due to the fact that he has an abnormally large chin. Also, the bassist is known as "Scruffy", due to his facial hair, the female singer is "Jessica", and the drummer is "Bob", both due to the fact that they are normal looking.