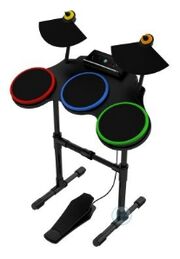 It includes three drum pads, two cymbal pads, and a bass drum pedal. The Guitar Hero drum kit was first introduced in Guitar Hero World Tour, it will also be featured in other Guitar Hero games like Guitar Hero: Metallica, Guitar Hero: Greatest Hits, Guitar Hero 5 and other games that features this peripheral.
Guitar Hero drum set can be used also in Rock Band games, although the orange cymbal does not function in a Rock Band song since Rock Band games don't support a fifth (six, counting the bass kicks) lane. It is currently the only contoller to use Expert +. 
The design of the drum kit was created by John Devacka, creator of the first music game, MTV Drumscape. The design overall resembles a standard drum kit used in real life. The kit is velocity sensitive (able to detect how hard the drums are hit) with some notes needed to be hit harder to score more points. There is a MIDI-In jack for those with MIDI drum kits to be plugged in for use in-game (as well as interface to the computer for sending MIDI commands or maintenance)
Outlets in the Back
Edit
On the drums, there are 3 outlets on the back left of the kit.
1. The purple outlet is for the kick pedal(s)
2. MIDI
3. Unknown
Differences with Rock Band Drum Kit
Edit
There are some key differences to the loo of the Guitar Hero Drum Kit and the Rock Band Drum Kit
Design: The Guitar Hero Kit has 2 raised cymbals unlike the all-pad Rock Band Kit (although Mad Catz is creating add-on cymbals for the Rock Band 2 Drum Kit)
Number of Pads: The Rock Band setup had 4 pads (Red: Snare, Yellow: Hi-Hat, Blue: Tom, and Green: Crash Cymbal) with the bass pedal being the 5th (Orange)
while the Guitar Hero has an added Tom (Green) moved the Crash Cymbal up (Orange) and changed the Bass pedal color (Purple) to match the Bass's Open E/Fb-String.
Ad blocker interference detected!
Wikia is a free-to-use site that makes money from advertising. We have a modified experience for viewers using ad blockers

Wikia is not accessible if you've made further modifications. Remove the custom ad blocker rule(s) and the page will load as expected.