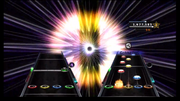 &nbsp
"Wormhole," is a venue introduced in Guitar Hero 5 that utilizes elaborate visualizations, opposed to the standard venue featuring the ingame band playing in the background. It is exclusive to the Quickplay and Party Play modes, and must be unlocked in order to be used.
In Guitar Hero 5 the player is required to complete Play that Funky Music in the game's career mode in order to unlock it.
The venue serves primarly as eye candy, and is subsequently very popular when used in conjuctions with the jukebox-like Party Play mode. The multiple vibrant visualizations depend largely on which song is being played and what specifically which section of the song is being played. Nevertheless, many songs often share the same effects.
The ingame band is entirely absent, and thus whenever a song is completed the percentage shown is marked only with the player's name.
It has made an appearence in almost every Guitar Hero game following 5, the only exception being Guitar Hero: Van Halen, which uses the Guitar Hero: Metallica engine.
Ad blocker interference detected!
Wikia is a free-to-use site that makes money from advertising. We have a modified experience for viewers using ad blockers

Wikia is not accessible if you've made further modifications. Remove the custom ad blocker rule(s) and the page will load as expected.