Xavier Stone (maio de 14, 1969, Boston, Connecticut, Estados Unidos da Ameria) e Um dos Personagens do Guitar Hero série. ELE E UM Personagem desbloqueável não Guitar Hero II , custando US $ 3,000, mas PODE Ser Jogado imediatamente sem Guitar Hero e Guitar Hero III . Sua Aparição em Guitar Hero: Aerosmith E o MESMO Que Guitar Hero III. ELE NÃO apareceu em hum Jogo Guitar Hero from Guitar Hero: Aerosmith. ELE E americano. He foi inspirado POR Bob Marley, Jimi Hendrix e William DuVall (Ex-Comes With The Fall, Alice In Chains cantor e guitarrista).
Biografia
Edit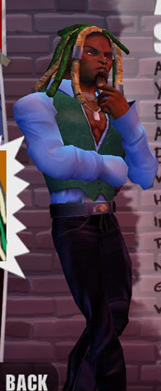 Um prodígio musical, ritmo de Xavier Pedra no Egito Expo-lo um Técnicas Orientais da África e do Oriente Que se tece em Seu som. Em Uma entrevista RECENTE ELE alegou parágrafo balançar Tão duro "não há nada de Mais Uma guitarra QUANDO eu sou Feito com ELE." - Guitar Hero bio in-game
Embalado Xavier pedra sempre. Identificado Como hum com musical prodígio hum QI de Gênio AOS 5 anos, escreveu e estrelou em SUA Primeira ópera rock de Corpo Inteiro em 8. Por 14 ano ELE tinha Formado o Sapo olho de vista internacionalmente aclamado e Uma turnê mundial estava Ao virar da esquina . Exposição precoce AOS ritmos Complexos da África e do Oriente influenciou Seu estilo. Igualmente energizado cabelo hip hop, Clássica, jazz e rock, ELE PODE MUDAR Estilos em hum centavo, e Parece legal faze-lo. Xavier Diz Que Gosta de balançar Tão duro Não Há "nada de Uma guitarra QUANDO eu sou Feito com Ele." Poll de hum Leitor RECENTE de Quantum Som Revista votou Xavier Stone "Mais Provável de Rock". - Guitar Hero manual de bio
Cresceu em Connecticut suburbano, Xavier pedra quebrou de SUA Educação mimados DEPOIS de perceber Que ELE preferiu Clubes de rocha Pará Clubes de campo. Tecelagem lisa dos Anos 70 estilo com Pedaços ranhuras , Xavier NÃO E Certo o ritmo TODO. - Guitar Hero II não bio Jogo
A Essência do legal, Xavier exerce som com Efeito hipnótico. Como senhoras Querem Que ELE e Os Caras Querem Ser ELE. Anunciada Como "O Strummer of Love", Xavier se esforça Para A Paz na Terra e Boa Vontade Pará com ... Rock 'N Roll. - Guitar Hero III: Legends of Rock bio no jogo.
Appearences
Edit
Heroi da guitarra
Edit
ELE TEM dreadlocks verdes e Amarelos, Queixo e Uma camisa azul com hum colete verde Acima DELE. calças de brim ELE TEM REALMENTE Escuro Azul.
Guitar Hero II

Edit
Com o Lançamento do Guitar Hero II , Seu Olhar regrediu em hum dos Anos 70 era de funk rock persona.
Guitar Hero III
Edit
Neste Jogo, Dois de SEUS Equipamentos Padrão exatamente Como Jimi Hendrix. Sua roupa Orchid Parece exatamente com 1969 Woodstock roupa de Hendrix, enquanto SUA roupa Tangerie Parece com roupa de Hendrix de SUA lendária desempenho no Festival Pop de Monterey de 1967. Além Disso, Os Jocks PODEM comprar psicodélica guitarra Flying-V pintado A Mão Iconico de Hendrix.
Por Guitar Hero III , Seu Olhar tinha regredido Novamente, ágora de Ser modelados Como hum hippie basculante nenhum estilo de Jimi Hendrix . Um traje alternativo, não entanto, E UMA Homenagem ao "DOS Beatles Sgt. Lonely Hearts Club Band da pimenta ".
trivialidades
Edit
Sem Documentário Guitar Hero não Jogo Primeiro, ELE foi originalmente planejado Para Ser hum

Roqueiro rap

, mas SUA aparencia era Muito Grande Para OS

desenvolvedores Pará CRIAR.

 

Ao Longo da série, ELE sempre foi o Único Personagem Africano-Americano no Jogo Até um chegada do

DMC

há

Guitar Hero Aerosmith

e

Quincy Styles

EM

Band Hero

.

ELE E UM dos Dois Personagens (juntamente com

Ripper Grim

) Que apareceram APENAS em Quatro Jogos e

NÃO fizeram Outra Aparição from that SUAS Aparições Mais Recentes.

 
O Xavier NÃO aparecer no

Guitar Hero: World Tour

, mas PODEM Ser adicionados atraves do Criador Rocker.

Guitarra favorita de Xavier Pedra E uma estrela fazem o metal Porque em

Guitar Hero III: Legends of Rock

Diz Que volta em 1967, o Verão do Amor, ELE encomendou.

Antes de Jimi Hendrix apareceu oficialmente em Guitar Hero World Tour, MUITOS Fãs de Hendrix acreditou e Disse Que Xavier era um version Guitar Hero de Jimi Hendrix.

Alguns de SEUS figurinos em Guitar Hero III São nomeados apos Beatles OS: John, Paul, George e Larry (presumivelmente Ringo).

He also se assemelha Phillip Lynott , vocalista e baixista do Thin Lizzy .
Ad blocker interference detected!
Wikia is a free-to-use site that makes money from advertising. We have a modified experience for viewers using ad blockers

Wikia is not accessible if you've made further modifications. Remove the custom ad blocker rule(s) and the page will load as expected.