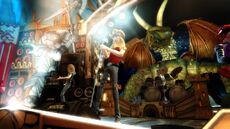 Ye Olde Royal Odeon is the fourth venue in GH3. It features a giant fire-breathing, robotic dragon behind the player, which is slain by a giant robotic knight between the normal songs and the encore. The drums sit on a castle-like setting. There are also red striped banners in the room that feature a simple drawing of a dragon. The venue is based loosely on the real life venue, The Hammersmith Odeon (now known as the HMV Appolo) In London in the U.K
Appearance
Edit
Behind the drummer sits a golden, robotic dragon that breathes fire. Two knights in armor stand on either side of it, slowly swinging their weapons at it.
Songs Played
Edit
When playing on this venue, the player performs the set "European Invasion".
This set includes:
Anarchy in the U.K. - Sex Pistols
Kool Thing- Sonic Youth
My Name is Jonas - Weezer
Even Flow - Pearl Jam (Encore)

Following the success of the video, the band becomes popular and goes to Europe (presumably England) to perform. Lights flash on and the singer is seen making the rock on symbol towards the camera.
Like the Desert Rock Tour, this venue is not in Co-op career mode. However, there is some cheat that if you start a Single player career and you have all 8 tiers in a start, then you have this tier in a Co-op career at 7 tier. This won't work in Desert Rock Tour and PS3 version.
A malfunction causes one of the knights to swing his axe too far and the dragon is decapitated. It's head falls to the floor and nearly crushes the singer and the guitarist, but they both step to the side at the last second.
The tier for this venue is named "European Invasion." This is a reference to the British Invasion of the U.S. in the 1960's, when various aspects of British popular culture became popular in the U.S.
Although the tier for this venue is called "European Invasion," "Anarchy in the U.K." and "Paranoid" are the only 2 songs in the tier originally written and performed by European bands, as Black Sabbath and the Sex Pistols are English, whereas Sonic Youth, Weezer and Pearl Jam are American.

Furthermore, "Anarchy in the U.K." is the only song in the tier actually performed by a European band, as it is a master recording, whereas "Paranoid" is a cover.